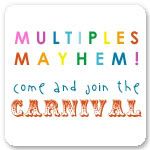 This week is the Multiples and Mayhem Carnival over at
Mummy from the heart
and this is my attempt at a contribution.
This is my list of must have's for having twins. It does have the background of already having a little one but here goes:
3. Sleep dividers and cot divider- at eight months my boys still share a cot. This has been a choice of convenience, we will need to completely overhaul my room to get two cots in and mummy out, and we are moving at the end of the month- so we're waiting. However, the cot divider and sleep positioner are hangovers from my little girl, the cot divider for me has always been a must for my peace of mind and the sleep divider was the same, but they came into their own again with the boys. In my world they love sleeping in the same bed, they did for nearly nine months and they frequently hold hands. But they did have a habit of creeping into each other's space and I wasn't ready for additional fears so with a sleep positioner each they continue to keep each other company.
4. Bath supports- we bought these especially for the twins. Squeaks went from a baby bath to the bath with the knowledge that one pair of hands would be enough, and other twin mums recommended bath supports. It took a long time for me to build the confidence to bath them together but couldn't believe how much these supports gave me that confidence. I probably only used them for a few weeks as they now bath with the freedom to kick legs, but they were well worth the investment as otherwise they'd still only be bathed every other day!
5. Two bouncers, two swings- a major luxury, but a must with a toddler and for sleep purposes. We started with one of each, but unlike Squeaks they both liked the swing. The swing was great for night time feeds, when one had to *patiently* wait whilst the other was being fed, tandem feeding didn't happen till around 16 weeks. A bouncer in the bathroom for separate baths. And a swing and a bouncer downstairs for daytime. It's true, they could have been carried upstairs at bedtime and downstairs in the morning, but what with everything else...
6. Two sterilisers- again, one for formula feeding. I had managed to get both an electric and microwave steriliser for half price, the microwave one was more for spending time at my parents. But, when the electric one packed in we wouldn't have coped without a back up to hand.
7. One cot- as number 3, if you can save any expense till later on, every little helps. We could have saved on a cot till the boys were at least six months old.
8. One moses basket- I ended up getting an extra as a bargain off ebay when they seemed to outgrow the single. I needn't have bothered. They soon started napping in their bouncers or buggy. They slept in their cot from the time they came home from hospital so having a moses basket downstairs was only a temporary need.
10. A play pen- I joke my house it tidier with three children than with one. The joy of a play pen- at the end of a day just throw everything in for an instantly tidy lounge.
Maybe next time, a top 10 of not what to buy would be as valuable!