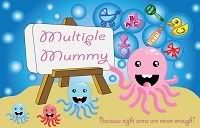 Multiple Mummy's blog was the first blog I'd read by someone I didn't actually know.
I started bloggnig shortly after.
Multiple Mummy- Kerry, has a similar family to my own, mother to an older sibling and twins. Although the age gap between Kerry's is less than ours, she was always that reality check, that the spirit in which she could do it meant I had no excuses!
Multiple Mummy has been on my blogging pedestal for so long. Kerry has the most amazing positivity, when she offered to host the Multiples Mayhem Carnival earlier this year I knew instantly what my post had to be- the best bits of having twins, because this is the vibe you always got from Multiple Mummy- getting the most out of life, enjoying family times.
Multiple Mummy's Family Frolics linky became a focus to me, to ensure I could get involved, that I make the most of my family, no matter how many plates we spin.
In July this year anyone who reads Multiple Mummy's blog was left in shock when a post appeared explaining how tragedy has hit, and out of the blue Kerry had suffered a ruptured aneurysm which caused her to have a brain haemorrhage.
As always the blogging community came together, standing by Multiple Mummy's blog to show Multiple Daddy support as he regularly updated readers and friends as to the progress Kerry and the family are making. Others who have had the privilege of meeting Kerry have shown support in their own ways.
Kerry has been in my thoughts every day, I cannot begin to imagine how difficult life is for her family with so much to capture of these family moments which Kerry is missing out on, supporting each other through Kerry's recovery.
And now,
New Mum Online
has invited friends and bloggers to come together at 10pm this evening, to send prayers and positive thoughts
So, please join everyone, including me, in sending so much love to Kerry and her family.
xx