As always, the week ends in a completely different place to where it began.
This week I went for the chop.
My 10+ year hairstyle has been axed.
I have short hair.
So that was interesting.
But in terms of what mattered this week.
On Wednesday night I attended an awards ceremony.
The Pride of Construction Awards.
And celebrating 50 years of my organisation's existence.
We incorporated the National Skills Academy for Construction Awards.
My baby.
And it was immense.
We started our Awards two years ago, with 50 people in a law firm's offices in London.
Last year, we joined SkillBuild, and over 100 people celebrated in Birmingham on a Saturday afternoon.
And this year, over 700 people joined together to appreciate what is great about construction.
And as naff as my photos are, these were the National Skills Academy for Construction Awards from my seat.
And it was great to be celebrated.
To see amazing projects giving so many an opportunity to be their best.
And then some.
Yesterday, I had a meeting.
Since May I have had to get more involved in my third project.
And since August I have need to be involved fully.
And the third project is my baby.
My 2004 baby.
And whilst no-one has a favourite child, in work terms, my 2004 baby is the one to which I am most attached.
And I sat down with somebody who I met many years ago.
Who, at that time, was nervous, detached, unable to understand the scope of the challenge she had signed up to.
And a year later was back telling us how she turned it around and was making a difference.
And yesterday, met to tell me how, having moved to another construction company, was going to make it work for them.
In my world, not only had she got it but she's embracing it.
And now, now she is leading it.
Making it happen,
There is such a difference.
Between adopting something new to integrating something.
Grasping something new.
Taking the leap.
Taking a risk.
And succeeding.
The people who I meet who have changed.
Who have become who they are because there was an opportunity.
Of course, it reminds me of me 13 years ago.
When my 'cantankerous old git' of a manager either a) gave me an opportunity, or b) flicked the v's and, in a spate of revenge, recruited me into a role to which he was opposed.
Making a difference.
Today I celebrated.
As I remember all those people who have joined the National Skills Academy for Construction.
With a lack of confidence and belief.
Who have joined an amazing sector.
And have made it happen.
Have achieved.
And big words, great grammar, and salesmanship might be amazing.
But that ability to meet people, and understand how to meet someone else's priorities.
That is what makes them special.
Since 2004 the National Skills Academy for Construction has been an amazing journey.
The people I am fortunate to meet, to learn from, and to stand back in awe, because they are amazing.
So, of course, because we are all so good at beating ourselves up,
And because maybe we all need to do a little bit more of this from time to time.
My Word of the Week: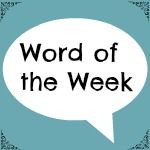 Pop across to
The Reading Residence
to see how others have reflected on their week.